And the tour begins with a quote from our living, breathing thesaurus, a legendary figure who is the mind and body of this well-oiled machine we simply call "a band." He is the Rush-worshipping, bass-playing, mullet-wielding , cat-loving, PBR-drinking, Teen Burger-eating Adonis, our treasure-trove of chuckles, Dan Ball:
"I checked the weather for our tour this month, boys. The forecast called for alcohol, poor decisions and low standards. Hash-Tag, GET INTO IT."
– Dan Ball, while simultaneously putting on Tom Cochrane's "Life is a highway" through the stereo.
And what potentially successful Acres Of Lions rock and/or roll tour would be complete without it's newest additions to the crew? We would like to give a warm welcome to our friends Cody Beer, who will be filling in on the drums for the next little while, and Handsome Anthony DeGirolamo, a brave man who will be peddling our wares, counting our loonies and toonies, lifting our gear and putting up with our collective shit for the next month as we train-wreck across this beautiful country, playing shows and destroying our bodies. Anthony has requested that if he is to be mentioned anywhere in a social media setting, he would like to be referred to as #merchman only, and never the obvious and best choice of a nickname, #Tonythemerchguy. Our new friend Kiana Brasset will also be joining us for a short period of time, lending her voice and her accuracy with the fiddle to our set. The tour will be shared with Edmonton, Alberta's "Greater Than Giants," a zesty pop-punk band that is absolutely incredible in every way, and we couldn't be more excited to be going on the road with them. As for Lewis Carter, he will be sitting this one out and advancing his career as a carpenter at home in our beautiful home-town of Victoria, BC. This will not be a permanent action, but we wish him all the love in the world. He is a big part of our family, as he adds height, as well as heart, to our dysfunctional quartet. He will truly be missed.
Following our trek out to Canadian Music Week, we will be venturing into new territory and flying to the United Kingdom, where in 7 days, we will perform at 3 different concerts in London, meet new friends and fans, sleep on unfamiliar floors, drink the finest cask-aged ales, drive on the left side of the road, all the while in disbelief of how we could be part of such a wonderful thing. We want to thank all of our friends, fans, families and co-workers, the people that made such a thing possible, who believed in us as Acres Of Lions from the beginning, for this opportunity. This will be an experience we will never forget.
There will be more blogs and updates to come as the tour moves forward and things get interesting, so until then, please, help us spread the word and keep in touch by following us on twitter, joining our Canada/UK Tour Facebook Event HERE, inviting your friends, checking our list of tour dates and coming out to our shows this month.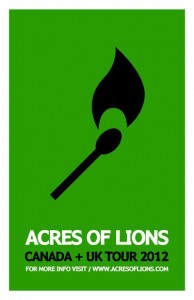 Thank you. We will see you all very soon.
Sincerely,
Jeff K, Tysol, Dan Ball, Handsome Anthony and Cutie Beer